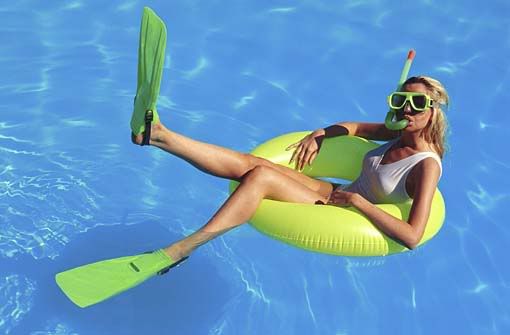 Get great deals from one of the leading suppliers of above ground pools, pool accessories, and pool toys in the market — Backyard Ocean! For their spring sale, they have a wide range of items to choose from at up to 30% off until noon today (May 19, 2011)! Here are a couple of items that we're particularly excited about:
Surfer Slide – This easy to use slip-n-slide toy comes with an inflatable surfboard and is 19 feet long! At the end of the slide is a big, soft landing for your surfer kids.
Bahama Breeze Lounge Chair (pictured above) – This durable lounge chair features colorful patterns and a comfy fit for anyone who just needs to float around in the pool as if they were in a tropical paradise.
Floating Volleyball, Basketball, and Water Polo Set – Backyard Ocean offers this set of 3 inflatable games at a great price! With a volleyball net, water polo net, basketball hoop, and inflatable balls for each game, just imagine the fun that can be had with these toys!
Swan Activity Pool – It's just so adorable! This pretty little wading pool is shaped like a purple swan and is fitted with pool toys for your little one.
Float to Fill Ring Pool Set (15′ x 42″) – Now something for the whole family! This great deal is perfect for big pool parties or gatherings. It also comes with a pump, filter, pool ladder, 2 beach balls, and a sun canopy for those with sensitive skin!
Pool Accessories – Choose from marked down quality pool pumps, pool filters, and pool maintenance kits.
Get geared up for summer with the Backyard Ocean Spring Sale! Hurry – sale ends at noon, May 19th!