Just when you thought dumpsters are only made for garbage, New York City pulled out these long metal bins and turned them into swimming pools. Placed on the bank of the Gowanus Canal in Brooklyn, the dumpsters were converted into portable swimming pools for an exclusive party. Invitations to this hush-hush summer fiesta were given to a select few who were asked not to forward them.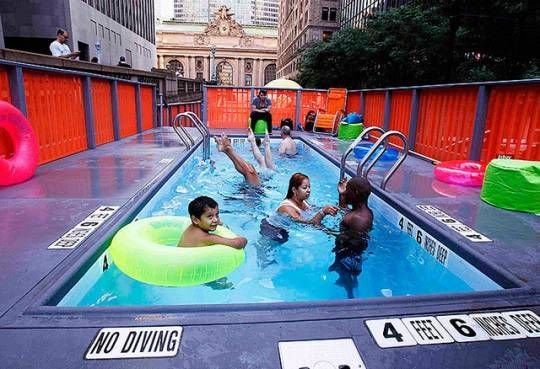 With only three dozen people invited, the party became an exclusive getaway right in the middle of a busy neighborhood. Cabanas were set up along with grill stations and some lounge chairs. Colored lanterns hung overhead, giving the hidden space a cool vibe. Music playing from a portable system completed the party ambience.
The concept was developed by David Belt, president of Macro-Sea, to create an urban oasis out of repurposed materials and underused spaces. Since dumpsters are basically everywhere, they became the focal point of a party project for New York, where swimming pools are few and far between.
The insides of the containers were filed down to smooth over the edges. Sand was placed at the bottom and pool toys were thrown into the water for a more festive atmosphere.
It sounded like the perfect urban getaway, with cool people having a blast! …And anybody would love to get an invitation to THAT kind of party! *Ahem*