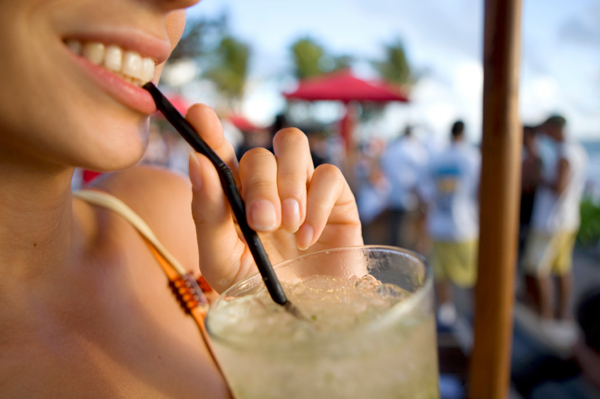 There's nothing like a swig of something cold in the middle of a hot summer day. While there's a ton of great summer drink recipes out there, let's take a look at BYO's 5 favorite summer drinks to sip by the swimming pool:
Fruit Drinks
This summer why not try a combination of fresh fruits and turn them into an agua fresca that you can sip by the pool. Or create a mocktail version of BYO's favorite tropical cocktail, the Pina Colada!
Lemonade
Add a twist to memories of childhood lemonade stands by tweaking your lemonade with a bit of raspberry or other syrups. Simply mix together your choice syrup, lemonade concentrate, water, lime juice, lemon-lime soda and some crushed ice for some refreshing and bubbly lemonade! To finish off your drink, add a mint leaf and a raspberry to the glass.
Sodas and Floats
Sodas and floats might not be the healthiest of summer drinks, but they sure are tasty! Make a classic root beer float by scooping vanilla ice cream into a tall glass, pouring some root beer over it, and repeating the process until you get to the rim of the glass. Add some whipped cream and a maraschino cherry for a special touch.
Iced Coffee
Make your own mochachino by blending together one cup each of strong coffee and milk, three tablespoons of sugar, and a dash of salt. When thoroughly mixed, add three tablespoons of chocolate syrup and three cups of ice cream and blend until smooth.
Iced Tea
This summer, give that old favorite a kick by adding some peach nectar, flavored syrup or fresh fruit! For more guidance, master chef Bobby Flay has really great suggestions for adults and kids alike!
Drink away the heat with these fantastic summer thirst quenchers!