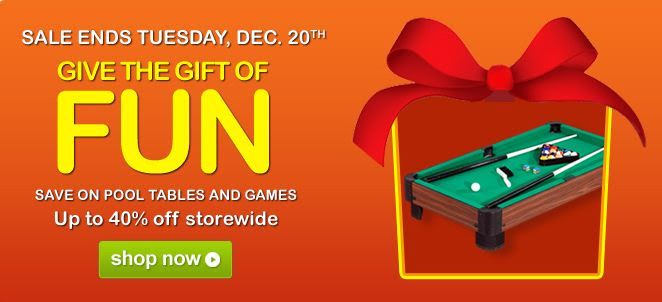 There's only one week left to go before Christmas! Have you started your Christmas shopping yet? If you haven't, check out these cool deals from Backyard Ocean:
MLS Maestro 56″ Soccer Table – Even if you can't go outdoors to play real soccer, you can still have loads of fun with your buddies by getting this foosball table. Certified by the MLS, this foosball table has laminated playing field and easy-maneuvering ABS players.
 4′ Air Hockey Table – Get into fast-paced action with this tabletop hockey table. This game table includes heavily weighted pucks and strikers for non-stop competition and fun.
9′ Bounce Back Table Tennis Table – Featuring a blue MDF wood tournament size playfield, this game table is one reason to get your butt off the couch. Easily foldable, this table tennis table is perfect for any indoor space.
Save on game tables this holiday season. Backyard Ocean sale ends on December 20.