Jan23
Relax Anywhere with the Aero Spa Inflatable Hot Tub
Posted by in
Winter Fun
If the cold winter months are bringing you down and you find that your toes are too numb to feel anything, all you need is a good soak in a hot tub to make everything okay.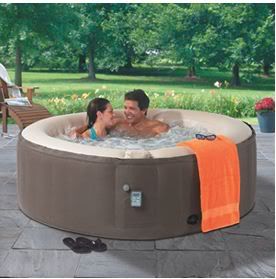 Backyard Ocean's Aero Spa Inflatable Hot Tub makes it possible for you to relax and enjoy winter anywhere you may be. That's the beauty of this portable hot tub that comes with a 900W thermostatically-controlled heater.
This portable inflating spa can be installed in minutes. With a press of a button, your hot tub is set-up and all you need to do is fill it with water. It has a 211-gallon capacity and can accommodate up to four adults. Perfect for the whole family!
Take this durable and portable spa with you anywhere you go.  The Aero Spa Inflatable Hot Tub folds, so you can store it and take it with you while traveling. This hot tub also comes with a zippered thermal cover. Get it now while it's on sale!
You can follow any responses to this entry through the RSS 2.0 You can leave a response, or trackback.