Sep16
Get More Bang for Your Buck with Our 'Wrap It Up' Sale
Posted by in
Top Deals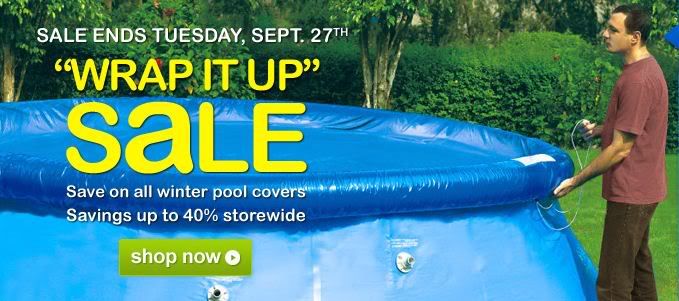 Summertime is over and it's time to transition your pool for the cold season.
Cover the pool throughout autumn and winter to protect it from outside elements. Get started on winterizing it with these discounted offerings from Backyard Ocean:
15′ x 30′ Oval Above Ground Pool Leaf Net Cover – Keep your above-ground pool mess-free with this durable leaf net cover. Made from hard-wearing polyethylene black mesh fabric, this pool cover is easy to install and features extra 3-foot overlap and cable to secure it in place.
12′ x 18′ Oval Above Ground Blue Solar Pool Cover – You can still enjoy your pool even on cold days with this U.V. protected solar cover. The blanket warms up the pool by up to 15 °F with the help of thermal bubbles which retain heat at night and on cloudy days.
18′ x 36′ Rect. – 8 Yr. Arctic Armor In-Ground Winter Pool Cover – This in-ground pool cover thwarts algae growth by preventing sunlight from hitting the water. The rugged polyethylene scrim and coating makes it long-lasting even during the unforgiving days of winter.
Get huge savings from Backyard Ocean's on-sale collection of quality products. Shave off as much as 40% on purchases and enjoy free shipping on selected orders. Sale ends on September 27.
You can follow any responses to this entry through the RSS 2.0 You can leave a response, or trackback.